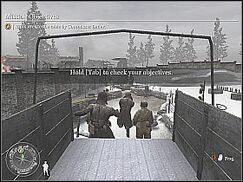 This is the 1st level and the tutorial level in Call of duty 2.
Location-Moscow
Protagonist-Pvt. Vasili I. Koslov
Allies-Commissar Letlev
Enemies-German Soldiers
Objectives-
-Walk over to the table by Commissar Letlev.
-Go to the storeroom and obtain a pistol and a rifle.
-Report to Commissar Letlev.
-Shoot the two teddy bears.
-Shoot the bottles and plates.
-Shoot the bottles and plates while aiming down the sight.
-Shoot as many helmets as you can in 15 seconds.
-Melee Attack the mannequin with your weapon.
-Throw potatoes at the marked targets.
-Follow the Commissar.
-Make your way to the armory.
-Pick up a sub-machine gun, and both frag and smoke grenades.
-Climb the ladder.
-Throw a smoke grenade to cross the street safely.
-Wait for the smoke to fill the intersection.
-Plant your explosives on the Panzerwerfer.
Weapons-Stielhandgranate
Kar98k
MP40
Luger