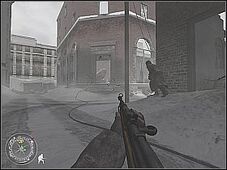 This is the Third level. Takes place on the Stalingrad Streets.
Location-Stalingrad
Allies-Lt. Dimitri Volsky
Enemies-German Soldiers
New Weapons-Gewehr 43
Objectives-Repair the field phone wire between HQ and the Solechnaya Street Outpost.
-Use the field phone and re-establish contact with regimental HQ.
-Hunt down and disable the Panzer II Tanks with sticky bombs.